Related Products
For more information on any of these products please contact us at: (248) 399-8524 and use Extension "0" to speak with an operator.
---
Use GoldMine better, faster, more easily, by using the secret shortcuts revealed on this mouse pad.
---
Click the link above to download the QuoteWerks Demo.
QuoteWerks is specialized software used in every industry for creating sales quotes and proposals. Rather than using Microsoft® Word® or Excel® to create your quotes and proposals, you can benefit from a tool that is specialized for the task of creating quotes and proposals.
QuoteWerks fits into your existing software environment. It works with the software that you store your customer information in like ACT!, ACT! for Web, Autotask, ConnectWise, GoldMine, Maximizer, MS Dynamics CRM, Outlook, Outlook BCM, salesforce.com, SalesLogix, and SugarCRM eliminating the need to re-type customer information. QuoteWerks also has its own built-in contact database.
You can easily import your product information into QuoteWerks. QuoteWerks can link to product database sources like Excel spreadsheets, text files, or if you are in the IT industry, Tech Data, Ingram Micro, SYNNEX, D&H and more. You can also just type product information directly into the quote. If you use QuickBooks or Peachtree, QuoteWerks can even quote products that you have stored in QuickBooks or Sage 50 - US Edition / Peachtree.
You can get real-time pricing and warehouse availability from your vendors and using our Etilize integration customer friendly product descriptions, product images, and marketing descriptions. With QuoteWerks you can also submit orders electronically to your vendors
With our QuoteValet Addon you know when your customer views your quote and your customer sign electronically - no more signing and faxing.
It integrates with your Accounting software like QuickBooks, Sage 50 US Edition / Peachtree, or others through 3rd party Accounting add-ons so when those quotes become orders you don't have to re-enter your orders, and those orders can be submitted electronically to your vendors! All of this eliminates costly mistakes.
QuoteWerks has been empowering businesses for over 19 years - increasing their productivity and closing more sales by simplifying and speeding up their price quoting/proposal processes in the office and on the road.
For more information on any of these products please contact us at: (248) 399-8524 and use Extension "0" to speak with an operator.
---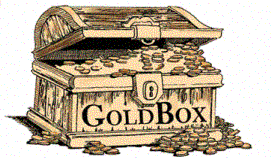 GoldBox
GoldBox is the premier tool for importing and exporting data to and from GoldMine. GoldBox can be set up to run imports on based on timers, perform record merges and much much more.